Smithers Art Gallery
"A line is a dot that went for a walk."
by Matt Simmons
Expressionist painter and Bauhaus teacher Paul Klee famously said this as an illustration of the freedom of creativity and as a guide to aspiring artists. Klee also said artists should commune with nature, noting that humans are inherently part of nature itself. Modernist painter Marc Chagall took it a step further: "Great art picks up where nature ends."
Walking through Smithers, the lines between art and nature blur. Surrounded by mountains, lakes and forests, threaded by creeks and the Wedzin Kwa (Bulkley River), the town is a pocket of population in a vast and beautiful landscape. Spilling through the town are unmistakable signs of the artistic community that calls the Bulkley Valley home, a community that values and is inspired by the natural beauty all around.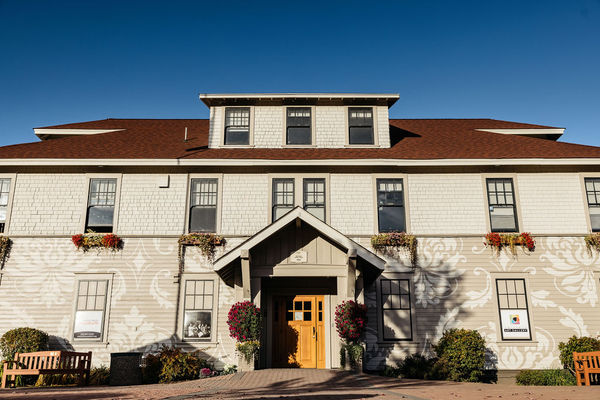 At the centre of town, and in many ways a hub for the local visual arts scene, is the Smithers Art Gallery. For most people, "art gallery" conjures images of white walls punctuated by framed paintings or plinths supporting sculptures. A place to speak softly and soak in the talent and skill of those who toil with paint-stained hands to bring beauty to a blank canvas. But the local non-profit organization is much more.
"If we're stuck inside the gallery, we're missing the ability to create community through art," Nicole Chernish, gallery manager, said, explaining the overarching mandate of the organization is exactly that: to create community through art. She said the board of directors and staff recently took stock of the gallery's achievements to date and dreamed up a vision of what the non-profit could be and where they wanted to take it.
"We looked at what it is that we want to be able to achieve and I think the biggest thing was accessibility: physical accessibility, financial accessibility, accessibility for diversity of artists — all of those types of things," she said. "That really means it can't just be about the exhibition space, it's got to be about everything that we do."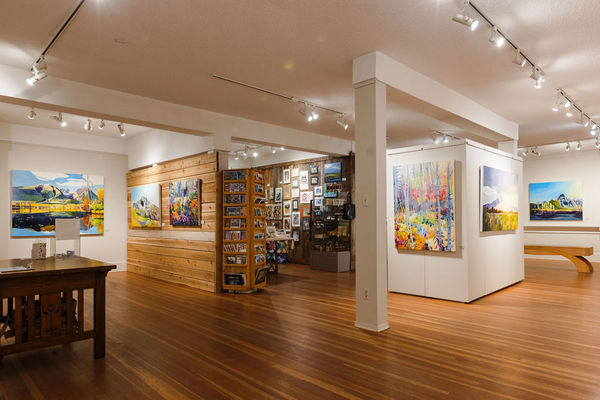 The white walls, then, are just one part of it. The exhibition space has a nook, stocked with locally produced arts and crafts and other items visitors can purchase. During the summer months, the doors are opened every Saturday for kids to come do a craft during the farmer's market, which takes place outside in the parking lot. The local institution also runs a satellite studio space where adults and children can attend classes and workshops and paint nights. The studio space is also used by professional artists, rented by the day, week or month. And the gallery organization is often at local events, like music festivals, the local Pride celebration, National Indigenous Peoples Day and more.
"We kind of have four things in our mandate," Chernish said. "One is to provide an exhibition space and that is hugely important. The second is to support artists. The third is visual arts education and the fourth is being part of the larger arts community and supporting that. All of those things are kind of jumbled together."
"Jumbled together" could almost be a slogan for small towns. Inevitably, in remote and rural communities like those of the northwest, local institutions need to be creative about how they reach audiences and bring people together. In a place like Smithers, where nature is big and the population is small, art is a way for the community to gather and share in an experience that is arguably fundamental to human existence.
Elevating artists, growing community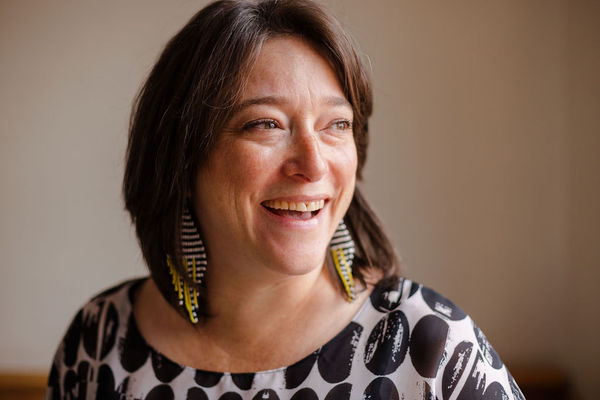 The Smithers Art Gallery has its origins in the early 1970s. Like so many arts institutions, it started when a group of artists came together to create something they felt the community lacked. The group grew and quickly became a non-profit, exhibiting local and regional artists.
Since first providing a space to showcase creative musings on life in northwest B.C., the gallery has brought in regional artists and professionals from across the province and country.
The organization recently took significant steps to elevate from a small, local non-profit to a highly respected arts institution. As of 2022, the Smithers Art Gallery started paying exhibiting artists professional fees in line with guidelines set by the Canadian Artists Representation Le Front Des Artistes Canadiens, commonly known as CARFAC.
"These are fees that you should be paying to artists to recognize the work that they put in," Chernish said. "We don't have to do that because we offer art for sale. But I felt it was incredibly important to honour the work that goes in. Not every artist is going to sell a piece of art but that doesn't mean that their art isn't worth having on display. It's just that the right person didn't walk into the gallery at the right moment and say, 'Oh, I need that.' The work is still incredibly important."
She added it's an important piece of the "jumbled" mandate she mentioned, as paying those fees helps artists achieve the professional standards needed to gain funding and access to other exhibition spaces, not to mention the respect that goes along with it.
"It's an acknowledgement that the work you've done has not only been chosen for the space, but that there's value in it. Artists, they often don't feel valued unless you sell a piece. But that's also a transaction — it's transactional. It changes the dynamic."
"There's no magic pot of money that that just appears from," she added, hinting at a never-ending stream of grant applications and fundraising initiatives the gallery association needs to maintain. But instead of it being a barrier, she said it's important to be confident.
"Look at it from an abundance point of view: we can do this."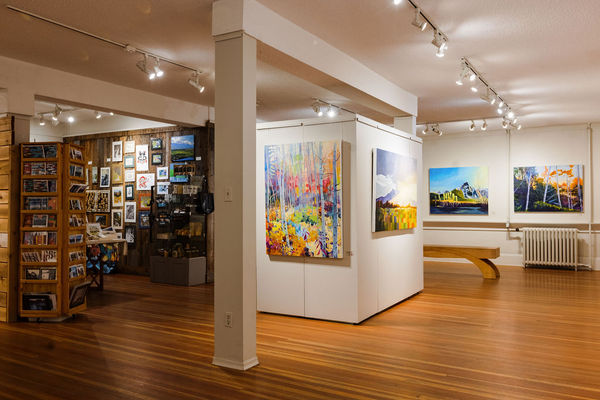 Sometimes the gallery's exhibitions feature the works of a single artist, sometimes they're shared — two or more artists, curated to be complementary. Other times, the walls are a reflection of the community as a whole.
Take the famous 6x6 show, for example.
A bi-annual event, the exhibition is a fundraiser for the gallery in which anyone is welcome to contribute a six-inch square piece of art. The shows are typically themed and participants can either purchase a pre-primed canvas provided by the gallery or create their own. At a much-anticipated opening event, the pieces are all displayed together — anonymously — and attendees bid on the art they want to take home.
"It's such a great community event — it's not just an exhibition," Chernish said. "We have five-year-olds who put artwork in and we have … much older than five-year-olds," she said with a laugh. "We have absolute beginners and people who are professional artists."
"A couple of years ago, there were groups of artists who got together and they painted in the style of another artist," she said, explaining it made for this mysterious experience in which people bid on a piece thinking it could be an original … or maybe not.
"It makes it so fun. It's anonymous so nobody knows who's painted the piece of art until after they've purchased it. So it just makes it super fun to think I could be getting X, Y, or Z and for like 40 bucks, or whatever it might be."
It's also a chance for members of the community to feel part of something bigger, amateurs joining professionals on the same wall, all coming together to take their dots for a walk.