Smithers Community Radio (CICK)
by Matt Simmons
When the founders of Smithers Community Radio first flipped the switch in 2010 and started broadcasting at 93.9 FM, those who were there didn't know if anyone was listening — but it didn't matter.
"We felt that it was visceral, you know? The experience of like, man, I think I actually feel those waves," Glen Ingram, station manager and one of the founders, said. "We were in a cramped little seven-foot by four-foot space which was meant to be a woodshed in the back of what was at the time the One Sky building, which is now the Grendel Group building."
"I think it was just voices, like we were taking turns on the microphone: 'Hey, anybody out there?' Just goofing around and not expecting anybody to reply."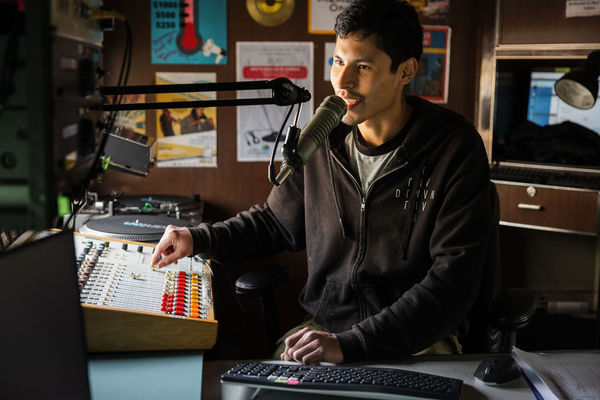 The community radio station is a non-profit society and while it employs a handful of staff and provides occasional contract employment for the likes of youth, its content is all produced by volunteers.
Those volunteers come from every corner of the community and represent all age groups, from children to seniors. Together, they produce content that ranges from meditative musings, quirky science and regional news to a vast array of music genres, most of which would never be played on commercial stations. In the gaps between locally-produced content, the station also broadcasts syndicated shows, such as Democracy Now, Canadaland and BBC World News.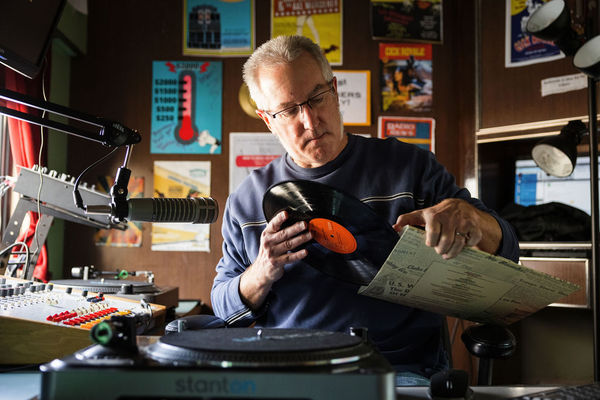 But in the early days, it was just a handful of keen folks sharing a tiny space with no bathroom. No one was getting paid back then and Ingram and a core group of volunteers gave their blood, sweat and tears to make a dream a reality.
Ingram said he can't remember the exact details of that first broadcast, but described it as feeling like a "momentous occasion."
"When we turned that switch on, we were different than anybody else," he said. "And we knew that we were going to stay that way."
Since its first broadcast, the non-profit — which is also known by its call sign, CICK — has become a local hub for artists, musicians and volunteer radio personalities.
It also moved out of the woodshed. In 2014, the station set up shop in a vintage train car permanently parked in the heart of Smithers at the intersection of Main Street and the highway.
"Part of me feels nostalgic every time I step inside this place," Ingram said. "Once you step inside, you step back in time, and it's this beautiful space with all these vibrant colours."
The train car, which was formerly owned by the Lion's Club, sat vacant for decades until CICK moved in. The station first paid $1 a year to operate from the location and had to find clever ways to install equipment without impacting the integrity of the space. Volunteers set up shelves and structures to support broadcast gear without putting a single screw into the walls. Later, supported by grant funding, CICK built a stage and deck outside the train and renovated one section inside, converting it from its previous life as a dining car to an intimate performance space, known as the "Lounge Car."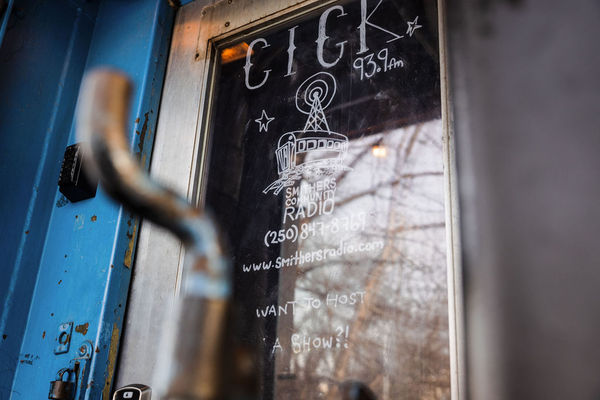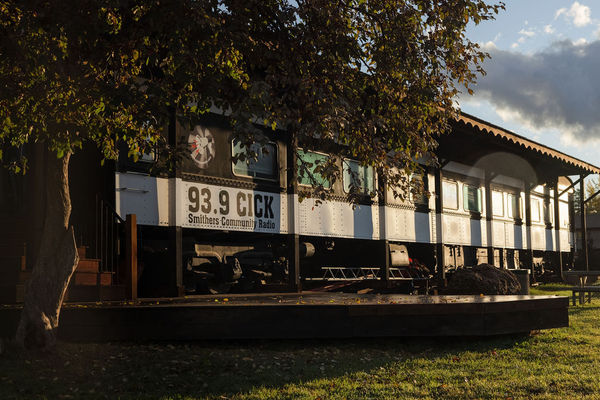 And in 2020, Smithers Community Radio officially took ownership.
"Having a normal space wouldn't reflect who we are as an organization," Ingram said. "We take pride in representing parts of our community that are not often heard or seen. We've really tried to reflect those people who are normally missed: BIPOC, LGBTQ+ or new immigrants, people who feel safer staying indoors and out of the public eye. But here we can be together in a way that's not public but is public and you feel safe here."
"It's really important for people who don't normally feel safe in this community to feel like they come into this place and feel safe to express themselves."
Ingram added the train car is also a really fun space to be in.
"You're in the centre of the community but you're also kind of invisible. This train car has been here for so long that people kind of forget that it's here."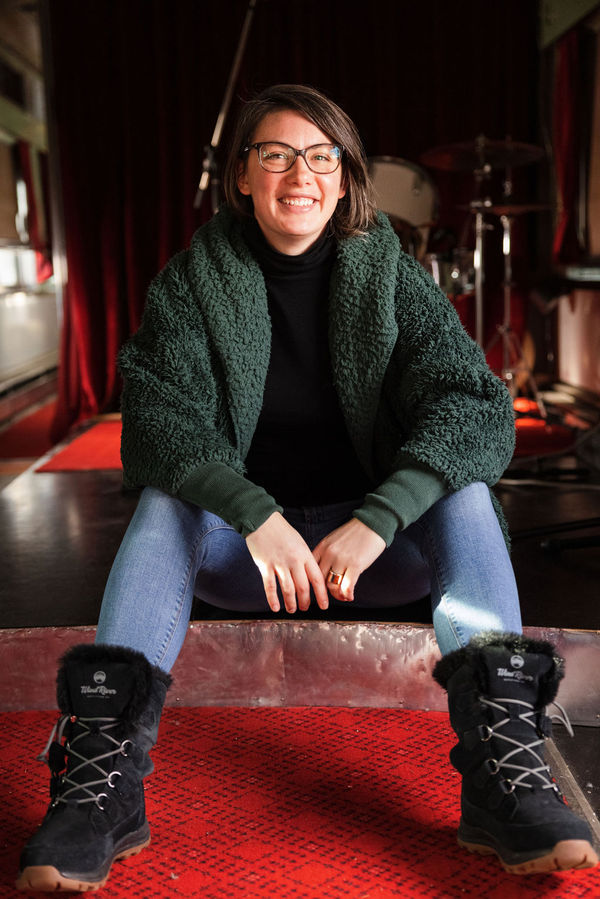 Pam Haasen, a producer with the station who also wears a number of other hats, said the diversity and non-judgemental nature of those involved in the community radio scene is a refreshing departure from our often-polarized society.
"It's a really transparent group of people just looking for a place to connect with people and feel accepted," she said. "Places like this seem to gather all the people on the fringes and give them a solid ground where you feel like people know you and you're understood."
Haasen was working with a campus radio station in London, Ontario, when she met Ingram and David McTavish, a volunteer and current president of the board of directors, at a national campus and community radio conference. She and McTavish hit it off and she later relocated to the Bulkley Valley.
She said there's something compelling about radio, which feels hyper-local.
"Even when I'm hosting my show I get random phone calls where people want to tell the community radio station something that's happening," she said. "Sometimes it's really small, like, 'I'm having a garage sale,' — which I love so much — to 'I'm not hearing enough about the Wet'suwet'en protests, we should be talking more about this.' People still see radio as this immediate source of local information."
Outdoor multi-use stage and indoor performance space
"It has been used by the farmer's market, Orchestra North, dancers and protesters," Ingram said. "It's a multi-use space that can be plugged into the radio station and live broadcast."
The farmer's market in particular makes regular use of the space, providing live entertainment during market hours. And when Smithers was celebrating its centennial in 2013 and desperately needed a backup stage to host a slew of performances after a fire destroyed a building adjacent to the town's stage on Main Street, the radio station welcomed the organizing committee and the show was able to continue.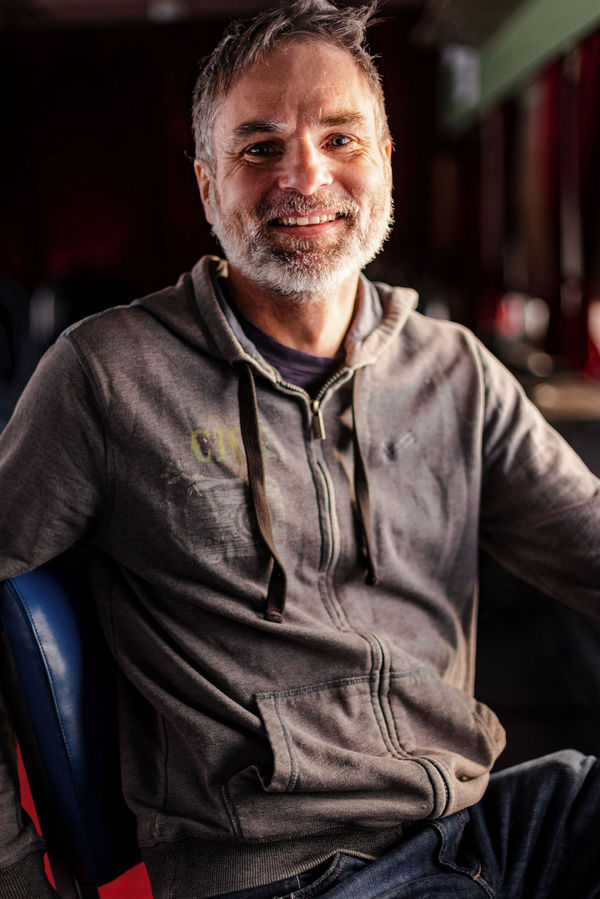 Inside, the renovated "Lounge Car" has helped to entice travelling artists, who would often pass through the town en route to festivals or gigs in other communities, to spend time in the Bulkley Valley.
"Having a space that could accommodate live bands and performances, we've quickly grown into a place where we could fill that gap because our community has always been desperate for venues," Ingram explained.
"We started off as a radio station that was primarily playing music. And then we started getting into more spoken word, people expressing opinions and their values. And then we came into this space that had room to present performers."
"We are now becoming a place where artists throughout the province and the country know that we exist and are available to put them out there in like 15 minutes," he continued. "Now the artists who are touring through town can stop and perform in the same amount of time it takes to have a coffee. And for that reason, we think that not only does it help our local artists, it also helps connect us with the rest of the touring community."
"We're all connected, we're all trying to do the same thing. We're all trying to make our lives and our experience on this planet better by surrounding ourselves with something beautiful."
"That's one of the main reasons why we exist."